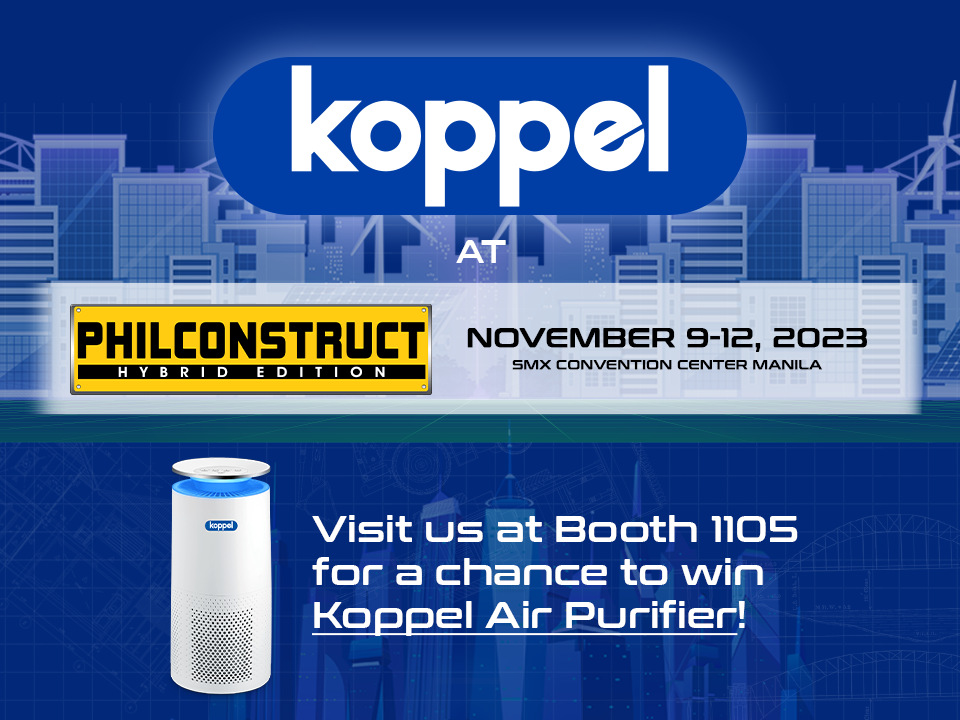 Join us at HVAC/R PHILCONSTRUCT MANILA 2023 HYBRID EDITION!
October 25, 2023
Join us at HVAC/R PHILCONSTRUCT MANILA 2023 HYBRID EDITION!🏗️
From November 9-12, 2023, we'll be at SMX Convention Center, Pasay City, to showcase our complete line-up of cutting-edge air conditioning solutions. From cozy homes 🏡 to bustling offices 🏢, industrial applications and advanced refrigeration systems, we're set to redefine excellence.
We would also giving away 1 Koppel Air Purifier KPT-229ESF1. Here are the mechanics:
1. Visit the Koppel Booth: Come to our booth at Philconstruct Manila 2023, located at booth 1105 at the SMX Convention Center Manila from November 9-12, 2023.
2. Register: Sign up at our booth to enter the raffle, becoming eligible for this exciting giveaway.
3. Like and Follow Us: Show some love by liking and following our official Koppel Facebook page and official Koppel Instagram page.
4. Spread the Word: Share the e-invite post from Koppel's Facebook page onto your own timeline. Let your friends in on the action!
5. Capture the Moment: Take a selfie at the Koppel Booth – this will be a requirement when claiming your prize.
That's it! The lucky winner will be selected at random from the pool of participants who've successfully completed these steps and met the criteria. The winner will be announced on Koppel's Social Media Pages on or before November 30, 2023. The winner's selfie at the booth serves as verification during prize collection.
Together, let's shape a cooler, more sustainable future! See you there!
#Philconstruct #PHILCONSTRUCTMANILA #philconstruct2023 #Koppel #KoppelAC #KoppelPH